English Language Skills - Level One Audio CD
Details
Description
Product Reviews
Beg. This first level provides reading, writing, listening, speaking & pronunciation activities. Covers relevant topics & language skills such as writing personal details on a simple form, buying something at a shop, explaining symptoms to the doctor, talking about likes & dislikes, understanding simple directions & reading a story & writing short answers. The layout encourages students to become more independent as they progress through the units. Photocopiable material in the Teacher's Book includes: surveys, pair work activities, vocabulary matching activities, sequencing activities, role play activities & assessment tasks. Publ 2009.
There are currently no reviews for this title.
Please log in to add a review.
&nbsp
Price: £ 8.90+VAT-20.00% discount will be applied at checkout
Associated Products
Related Products
Others Bought
Associated Products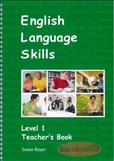 9781877074332
English Language Skills - Level One ...