Rhyming Stories Language Workbook
Details
Description
Product Reviews
ISBN

9781877074387

Author

Boyer

Learning Level

Publisher

Boyer Education

Status

In Stock
Pre-Interm. to Adv. Practice with the sounds & spelling of English. Designed to demonstrate the spelling & pronunciation patterns of English. A5-size Reader - each story focuses on a particular sound of English & uses colour & visual aids to highlight the connection between English spelling & pronunciation.
Contains interesting topics in story form & imaginative illustrations which demonstrate the link between spoken & written English. Of benefit to learners of all ages & provides the most benefit when used with the accompanying language book activities (Workbook) & Audio CD. Due Spring 2014.
There are currently no reviews for this title.
Please log in to add a review.
&nbsp
Price: £ 17.95-20.00% discount will be applied at checkout
Associated Products
Related Products
Others Bought
Associated Products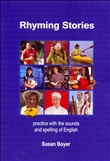 9781877074066
Rhyming Stories Book

9781877074370
Rhyming Stories Audio CD